Ours was nice and laid back with two family do's and one friend's do the previous week and three on the day. Lydia had been counting down all month with the help of her chocolate advent calendar (Emily was happy enough to get her share of the chocolates!), and wrote a note for Santa with cookies etc the night before the Main Event. It was so precious seeing the look on her face as she came down the stairs, bypassing the filled sacks of presents, and exclaiming incredulously that Santa had been and taken her cookies!

"Crazy hair" had been the only request from Lydia to Santa so she was thrilled to get that, plus a new bike from Nana and Granddad, Hi-5 Twister game etc. Emily loves her new swing, baby doll and amazing personally painted toy box! Among many other wonderful gifts - what lucky girls!



The cousins all tuck into their
Christmas feast!
(Clockwise from left:
Lydia, Emily, Zack and Katie)


An early Christmas present for us was a new auto-start gas fireplace to replace the wood burner in our lounge. This involved connecting our house to gas (which proved to be a very complicated exercise, trying to find the elusive main line which ended up with the gas men digging up all our neighbours lawns and one neighbours driveway!!!). Never mind!?! We now also have gas water heating - timely as our old cylinder was starting to play up. We almost can't wait for winter, to experience the awesome sensation of waking up in a warmed up house! We're also hoping it means the girls won't get as sick this winter!
New Year's Holiday at the bach

After a hectic few months leading up to Christmas, we were glad we'd booked some time away at the family Bach (belonging to Brent's family) up north on the beach at Wellington Bay, just down from Tutukaka. It's a big roomy 5-bedroom batch (containing beds for up to 15 people!) so we invited up my family (parents Graham and Christine, brothers Richard and Robert, Richard's fiancÚ Michelle, and Robert's friend Mark) to join us for a few days over the New Year. The weather was looking pretty dubious the first couple of days we were there. However the day after the rest of the family arrived it fined up beautifully and we were able to really enjoy a lot of time on the beach.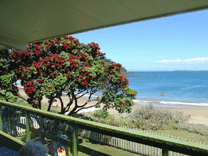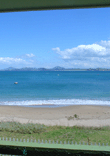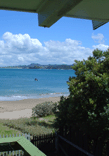 The great view from the Bach on a gorgeous sunny day!
The girls lived on the beach most days and had a ball in the sand pools and castles created by the adult family members!
On a couple of days that we were there, some pods of Dolphins swam in close to the beach and played for quite some time with the locals who swam in to join them, doing flips up in the air etc for those of us gathering to watch on the beach. Apparently they'd done the same a few days earlier on Christmas day and had great fun swimming around the tummy of a very pregnant lady who's waded in to join them! What amazing animals!
Late on New Year's Eve we were pleasantly surprised to be treated to a magnificent professional fireworks display above our quiet little beach (thanks to a neighbour who works in that industry)! During our overall stay we were able to relax, enjoy the local cuisine at nearby restaurants/cafe's, play some games of 500 and Mah Jong, etc. Before we knew it the week was over and it was time to return to Auckland. On the way back we popped in to visit a friend of mine, Lisa, who has moved up north with her family. We had a nice catch-up while the children played together.
All in all a nice relaxing break, and much fun had by all!