Thursday 28th December 2006:
Today was Sonia's funeral. A special thanks to all that attended. A special thanks to janine (bogeyi) for attending. Do not despair about Sonia's thread being voted off. Nor waste your energy thinking that you must keep it going for Sonia. I will be taking a break with the girls for a little bit and enjoying the summers holidays. But rest assured that "Cancer Suxs" will be back. I have registered the domain name, and will be creating a message board site, that cannot be voted off. This form of communication was invaluable to sonia and I will be making sure that it will continue for others. Once I have the site up I will "restore" any previous threads have other members have saved. Swords Up - Enjoy the holidays - Brent.
Here is the poem that Sonia wrote for the girls back in June. For My Darling Girls....
Saturday 23rd December 2006 9.00am: At 9.00 this morning Sonia's battle with cancer was over; the sword she carried high for so long finally fell. Sonia is at last in peace after many months of pain. Sonia will be with us in our hearts and memories. Your words of encouragement and well wishes have provided us with extra strength through these strenuous and difficult times. In the short time in hospice Sonia managed to tie up the loose ends; complete a scrap book page, organise special treasures for her girls memory boxes and then the final "tell". Knowing that her work was complete; she could move on. Myself and her parents and her brother spent the night beside Sonia as she slowly drifted away from us. Her daughters arrived as she has just passed away and were able to tell Sonia how much they loved her.
The funeral for Sonia will be at the Schnapper Rock Road crematorium on Thursday 28th December at 10.30am, Sonia has touched many hearts and we would love for you to attend and show to the girls and our family how much she meant to us all.
Please continue to visit her website and leave messages as I will be updating it with tributes and special pages for her. We will be keeping your messages for the girls so that they can understand when they are older what a special person Sonia was to us all.
Thanks for all your words of encouragement Brent, Emily and Lydia.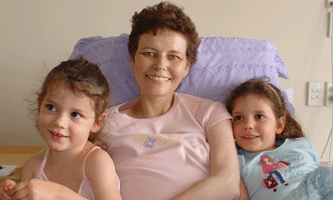 Sonia Friday afternoon before the final "tell"
Friday 22nd December: Hi All. Just finished the talk with the girls at the hospice with them about whats what - regarding my situation and the girls. Lydia was very concerned and got very upset. Emily didn't get it at all. Took about 1.5 hours all up.
Thursday 21st December: Hi Everyone. Well I'm back in hospice now, being treated so well. Got the big run down. So essentially not only did the chemo not work it has in fact made things worse, and all future chemo has been cancelled. My liver is essentially (function-wise) packing up. The Doctor can feel it and you shouldn't be able to.
Next few days will tell full story but its not looking good. Options-wise run out. Still got the sword up - lets stand to attention!
Balancing steroids, pain relief and anti-nausea the main plan of attack for now - have seen some promise there ;o) Just eating first meal in days - that's promising. We've been told to "tell the kids" the latest. The time is here. Love to all. xxx
Tuesday 19th December: Hi Brent here. After weeks of feeling better. Sonia had a set back in the weekend, when she suffered a suspect liver bleed. This put her in severe pain 10/10. But thanks to hospice nurses and her doctor the pain is under control. But it has meant she has spent the last few days lying down. On a plus side, the lymphidemia in her legs has gone down. But the pain has not gone totally away, so the next round of chemo has been postponed and she is being scheduled for a liver ultra sound tomorrow. Will keep you updated. Thanks Brent.
Monday 18th December: OK officially overdid it on Thursday with a big walk up steep hill "I'll be fine" going to Lydia's school awards do (she won an award too :o). Not been really listening generally to the take it easy, liver's sensitive thing the docs keep saying. Anyway.... Reason for delay updating site -
My liver went BANG with a bleed, acute pain Saturday morning 11am. Have been bed resting since trying to get it back under control. It is finally under control now this afternoon but being sensible now and extending the rest to be safe. Vomiting returned too over weekend, so had Hospice and doc visits constantly over weekend, making it busy. Chemo most likely cause of the bleed (and me being OTT as per usual) so chemo has been delayed by oncologist - not sure till when. That's all we know for now. So I'm off for another rest. Thanks all for caring. Sorry about the delay in update.
Thursday 14th December: Busy day - successful blood test first, then coffee group, then home call from doc and daily hospice visit. I'm now (from today) on self-loading syringe drivers kept in fridge I load them myself! Daunting but liberating! That means no more daily visits required - only two-weekly to check the injection site where it all goes in. Had my Zemeta transfusion (bone strengthening one) at oncology followed by meeting with fill-in oncologist. She explained well, in between trying to catch up on all my file while talking about my case. They essentially need to focus on stabilising my liver before worrying about things like radiating my head so priority in getting chemo into me, not upsetting the applecart too much so to speak. Brent was happy with that, guess I am too. If head gets worse, they will reassess radiation then... Lymphodeama treatment was amazing - what a difference! Still swollen looking but not as much and feels great supposed to be resting and elevating now so guess I should be good but feel like doing stuff instead. Oncologist saying no radiation yet on head, just an hour ago got a call booking me in for a markup tomorrow!?! Sent into confusion, in end got deferred to 5 Jan markup treatment pending after that. Talk about right and left hand not talking ?!?! Happy with the final outcome though...
Wednesday 13th December: Busy day today - successful blood test first, then coffee group, then home call from doc and daily hospice visit. I'm now (from today) on self-loading syringe drivers kept in fridge I load them myself! Daunting but liberating! That means no more daily visits required - only two-weekly to check the injection site where it all goes in. This afternoon had my Zemeta transfusion (bone strengthening one) at oncology followed by meeting with fill-in oncologist. She explained well, in between trying to catch up on all my file while talking about my case. They essentially need to focus on stabilising my liver before worrying about things like radiating my head so priority in getting chemo into me, not upsetting the applecart too much so to speak. Brent was happy with that, guess I am too. If head gets worse, they will reassess...
Tuesday 12th December: Had bone scan over in Greenlane, injection there 3 hours earlier, lots of to-ing and fro-ing. Tried doing blood test before that - no blood - will have to try again tomorrow! Been tired in legs today, damn swelling and steroids bad combination.
Saturday 9th December: So I still have my syringe driver attached pumping morphine etc into me - dangles off the side of me, bit of a pain but I'm so used to it by now. Nurse comes every day at 12.30 to change it (refill it) so in no pain. Still on steroids too so medded to the max, not sure if all still needed its a day by day thing. These meds just have me wandering the house at times, I'm just resting heaps, eating what I can, trying to spend time with the girls... We went out mall Xmas shopping this morning shock horror! Could we get a disabled park?! Man I hate how people think they can park in the last one for 1/4 of an hour quick shop blah blah - aims shotgun. Vent over. I'm no longer in wheelchair BUT the mall is a huge walk and really got to me all the walking, nearly passed out at one point, had to have a major sleep once home to recover.
Friday 8th December: Found out tonight that my oncologist is now on holiday grrrr! He hasn't sorted my radiation on the head tumor yet, too busy in his high profile Susan Wood case no doubt. So got to get onto the other guy on Monday and find out what the deal is. Have full bone scan this Tuesday - mustn't forget it again! When's my next chemo? Next bone injection? etc etc Slack man....

Thursday 7th December: Bit tired and spacey is my thing now, not so bad but bit frustrating! Adjusting to meds etc, hoping the spacyness will go in a few days. We've dropped the steroids a tad so thinking that's it.... It's quite hard to type at mo, mind wandering, bit of a space cadet here, frustrating, things I want to do (scrapbooking etc), too fluffy in the head to do them! Rests help.
Wednesday 6th December: My platelets are 73 apparently thats low and typical of this chemo (never been given a number before?!). My liver looking slightly better woohoo just what I thought ;o) That said though, oncologist wants me to stop vit C for 2 weeks - to be honest I just said thats fine, could do with a break from them actually. Been taking it easy today. Lymphoedema in my right foot looking yuck - got treatment for that next Thursday, Brent's coming with me for that. Elevation and circular upward gentle circular massage required apparently.
Tuesday 5th December: Woke up feeling relatively great this morning! I really seem to be improving each day, I really do! Yep resting up at intervals during day. I believe the chemo is working - why else should I be feeling so much better eh?! Specialists go "hmmmmmm we'll see" I say I stick with believing it's working - keeps me positive and sane! Had blood test today. Went well. I do have Lymphoedema developing in my feet/ankles and around my torso which they are watching - not to bad at the mo they reckon - looks bad to me! That's reaction to medications apparently.
Monday 4th December: Had Vitamin C infusion this afternoon - went well. Everyone saying I'm looking better, more colour in my face etc. No vomiting during treatment was a nice chance too LOL.
Saturday 2nd December: Thanks to everyone who constantly think of me, all the flowers, cards, emails, gifts etc etc - its mindblowing really - the support, the empathy, the caring. You are all my angels. Bless you all.
Spent a tonne of today resting - overdid it yesterday LOL. Big family do this evening went well, glad I'd rested up - made it through :o)
Friday 1st December: Feeling surprisisingly good today considering I chemo'd yesterday! Even put the Xmas tree up! Having lots of rests though in between (liver strain causing the fatigue mainly apparently), not so to overdo things ;o)
Thursday 30th November: Brent's house sold - yay! In excitement forgot my mid-afternoon full bone scan - d'oh! Not such a disaster - will reschedule, we know its moving through the bones, back, now base of skull, causing facial numbness for me (left side of my face, lower 3/4). Had chemo tonight and major talk with oncologist. Here's a recent local article on one of the drugs I'm now taking (Avastin) which is kind of my equivalent version of Herceptin. Things are getting pretty serious. My liver's under strain, stomach under pressure (from the liver), lung involved, now the skull thing which will need radiation (Urgency next few weeks I've been told with that). If this chemo combo doesn't work.... options running out. They HAVE to work! You're thoughts and prayers everyone!?! I have faith, I'm telling myself this is the magic bullet. It can happen! Meanwhile I'm tired and resting heaps...
Wednesday 29th November: The playhouse was basically completed last night - sooooo cute and cool! Needs some finishing painting here and there. Our Northcote Point house is going to auction tomorrow at 10am (first one of the day!) - I'm hoping to attend that also. Several interested parties so fingers crossed! I'm getting so bizarrely weak - legs mainly, feels BAD. What else to say really except resting up heaps trying to get my strength back. I feel so crappy - turns out its the steroids according to hospice...
Got through to oncologist - I'm chemoing now tomorrow afternoon (privately = up to $60K down the gurgler if it works, we'll stop in few months if its not (about $10K per month), its pay as you go...)! Would you believe strikes are affecting us again! This time the hospital strikes apparently mean no blood - I'm wanting a port-a-cath put in for this chemo - they can't cos of strikes/blood. So have to put it in next time if strikes ease. Looking at private options of course. All a bit rushed now. Still no word on radiation. Slacker onc hasn't talked to Dr Benjamin yet but assured me he will tomorrow.
Monday 27th November: Was a busy busy day today - had close friend Alan visiting all day from Australia, just visiting me for the day, he arrived at 10am left at 5pm! Brent stayed home all day to catch up with him too so it was lovely :o) Two sep nurses visits, Cancer Society 9.30am and Hospice to change my syringe driver 12.30pm. Meanwhile builder working away downstairs and playhouse guys arrived to install playhouse (its about 75% done now already!).
Then got my interim brain MRI results over phone - hmmmm.... well there's nothing IN my brain which is good, but their is something building up on the skull which radiation can hopefully nix. Oh lucky me, cancer cancer everywhere. Feel like I'm losing this battle my friends today. Swords too heavy :o/
Still no call from my oncologist (MRI results courtesy of Hospice doc) - I'm TRYING to get started on the new chemo, like banging my head against a wall... Anyway then tonight my F-I-L's birthday party at S-I-L's which I sadly threw up afterwards, most unexpected, haven't been sick for days...?!?! So a mixed and busy busy day!
Sunday 26th November: Had a great night though it was very very tiring. Visitors Lance (which was lovely) and nurse this morning to change my syringe driver (daily thing). Then had a big midday kip - just coming right now, feeling pretty good 3.30pmish ;o)
Saturday 25th November: We decided to miss the opening act and that - pre-booking a taxi at 2pm for 7.45pm (last night U2 came on at 9.15 so we decided to pace ourselves). Good having the previous night to know the timings - we should get there in plenty of time being a Saturday...All dressed up to the "9's" in my rocker U2 gear LOL, off for last half-hour rest before cab arrives. Feels too well organised to be true LOL.
U2 concert went very well, worked like a dream. Taxi stuffed up (our pre-booking dropped off the system) but we sorted that in time, got almost to door thanks to having wheelchair in boot, treated handsomely while in wheelchair. It was too late to get the organised the wheelchair seating (never though of that!), so went to our pre-assigned seats. Everyone insisted on standing around us in our seating so we asked the peeps standing at end of our aisle (5 away from us) if we could have them move along one so I could sit on aisle seat (Brent sat in aisle), explaining in brief why I couldn't stand throughout) and they agreed to move for us :o) So we got to see the whole thing sitting pretty much (even though sitting :o) Getting to car a piece of cake (we left before very last encore, straight out, straight home :o)
Friday 24th November: Hi all its been a yuck yuck day today, hence never in here - was lathargathic, slurry, consumed with exhaustion. Had brain MRI and blood test for suspected calcium leaching outta my bones. Fortunately those bloods came back OK (Good results for once yeeha!). They're doubling the steroids today so I can last out U2. Got a corporate car entry, yay, disabled pass to display in car, wheelchair... sooo excited! Brent got me a new mobile phone, so far haven't managed to successfully send a txt so sorry to those who've txt'd me. I'm working on it!?! Anyway, must go have lunch to take the extra steroids, and then have a BIG rest-up while girls are away at friends house. (((((hugs to you all))))) xoxoxoxo
Wednesday 22nd November: Left hospice about 2pmish, driven home by Lissa :o) I rested on the couch (in between phone calls - so may phone calls, txts and visits today, lovely thanks but also a bit tiring!) till my parents came around to cook dinner here then I had another rest. Docs said I have to operate on 3rd or 4th gear for a while so to speak. Sure feels that way! Nice to be home though, with all the help.... off for another kip, can't get enough sleep!!! As for U2 concert on Saturday... a plan to still be able to attend is foming... Gotten hold of mobility card (assuming my one doesn't arrive in time) and wheelchair for day from hospice, going to ring Ticket Master and beg for a reserved park and park car there during the day, taxi there at night (taxi's can go right up apparently) and then Brent can wheel me down after. This is the plan - Ticket Master please, come to the party?! :o/ Will find out tomorrow....
Tuesday 21st November: Hi Brent here, Sonia will be back tomorrow, #yeha#. Doctors at hospice decided to keep her longer to make sure new meds working. We all miss her and want her back. Your wishes and encouragement have been working as Sonia is doing much better. Please keep it up. Thanks Brent.
Sunday 19th November: Hi Brent here. Just to let you know that Sonia is feeling better. She is still at hospice tonight, but should be back tomorrow. They have given her injections for the migraine and is now on an auto pump injection to deliver her meds, rather than orally, which she was throwing up. Thanks for all your wishes and encouragement, it helps her stay strong. Thanks Brent.
Saturday 18th November: Hospice came and visited me early afternoon and didn't like the look of things. They gave me the option on home medication or, their recommendation, admitting me into the hospice. I reluctantly admitted myself, expecting scungy rooms etc, and was blown away with how awesome the hospice was! Much much nicer than hospital! They started by addressing the migraines and got rid if them with Imigran shots. Ta da! Gone! Then I realised how sore I was lower right-hand chest area, turned out to be my enlarging liver encroaching on my stomach, which was causing the ongoing vomiting etc. Required dose of Morphine causing chronic constipation... so time to put me on a syringe driver. [You are most likely to have a syringe driver if you need a particular drug very regularly but find swallowing difficult. A syringe driver is a battery operated or clockwork pump. My nurse dissolves the right amount of the drugs (of painkillers and anti sickness drugs etc) in a very small amount of water and put this in a plastic syringe. The pump delivers the drugs from the syringe through a soft plastic tube to a needle that goes in just under my skin. The needle is fixed in place with a see through plastic dressing stuck over the top. The pump can deliver tiny amounts continuously. The nurse who sets up the pump will work out how much to put in and how to set the pump so that you get exactly the dose you need each hour to last 24 hours at which time they replace it, and will continue to do so once I'm at home.]
Friday 17th November: Another bad morning. Migraine yet again, vomiting, went for vitamin c regardless (did it in separate dark room). I have now broken the record on Vitamin C dosage, up to 190mg, last blood showed only 275 (should be over 300 climbing to 400) so they're cranking it up! They added vitamin B and some magnesium for the migraine, so it was a very full bag! Took 2 hours to go in. I threw up just beforehand (always in private dignity of restroom), so managed to hold it together for the 2 hours while hooked up, which was great. The migraine's all just lifted now (thanks to Morphine) and my tum is stable, so fingers crossed. Going to docs this afternoon (arranged by hospice) to discuss a blocker to try and end this relentless migraine cycle I'm on. Oncology called this morning to check my weight for calculating my next chemo concoction, so he's getting there... and MRI of my head booked for next Friday. So some progress! Feel tired man...
Thursday 16th November: Lots of visitors today which was really lovely but still have headache, tired as, very emotional today, meltdown city - apologies to the 2 visitors who copped a cryfest - not normal I assure you! It's the drugs and the migraine hangover :o/!!!! Hospice came, had a big talk, decided to talk to my Oncologist about an MRI to put my mind at ease, I have a numb face, have had for a while permanent headache for 5 days now.... starting to worry, which doesn't help! They're also now away working out how to stop the migraine (I can't have beta blockers it turns out because my heart rate is quite low). My oncologist OK'd the MRI (so will have that probably early next week), and is still researching and consulting with colleagues on my case apparently, according to his nurse to whom I said well I need some answers ASAP please (ie what my next chemo concoction will be)! I'm too weak today to debate with them much more, will get Brent to call them tomorrow if I still feel like this. Gotta get the sword back up pronto!
Threw up numerous times tonight and would just cry and cry afterwards - this is all just getting to me at the mo. One thing Brent never does is come and hug me when I cry - guess its tricky when I'm leaning over the toilet bowl at the time! Dealing with this in this way has made me stronger - always feel better after a big cry usually anyway. Been a day for it today! Off to bed soon, took a sleeping pill, its a bummer I threw up straight after taking all my nightime pain meds, couldn't see them in the crap that came up so have to assume they stayed down... fingers crossed on that one! Hence the sleeping pills addition for tonight.
Wednesday 15th November: Found out today that I'm actually eligible for disability parking now! That's great news as I've felt I've needed it for a while, never occurred to me I might be eligible though! I guess I haven't mentioned how much weaker I've been getting, it's kind of happened gradually so I've barely noticed it myself. I can no longer close the boot of our car, lift my children, carry many bags, even open certain doors if they're heavy and I tire easily. A trip to the mall is a a rare thing and really zonks me. I am only comfortable driving short distances, no motorway trips, I worry I'll doze off at the wheel! The cause of all this not just the weak spine and cancer in general but also all the drugs I'm taking. So this will be a godsend. Just awaiting the forms, oncologist will sign off. A friend reckoned I'll get abused by strangers for parking there and getting out and walking, we'll see, I can certainly mouth back if they do! I've always respected disability parking, and even now, if there's another park close enough I'll take that rather than the disabled park, and if I'm having a good day I'll not use it either. That's the plan.
Still got niggling headaches, hospice visiting this afternoon to put me on a "beta blocker" to stop them...
Tuesday 14th November: Was still feeling yuck this morning. Palliative doc and nurse called and came around swiftly to review my meds and discuss migraine (I had fear of Brain tumour which they dismissed after examining me, which was positive). They decided Imigran was what works and prescribed me heaps more (I'd only been given 4 previously), once I took 2 of those, the headache lifted. Still feeling off-colour, but otherwise fine.
Well the hope of a bit of good news from the scans was dashed today. Bummer man. Few more new lumps in my chest wall, liver and now lungs! Arrrrgh! Why oh why is no chemo working? Brent and I though think the growth has slowed, so believe in continuing the vitamin C. As for my spine, that's kind of better but not... my T6,7&8 vertebraes have improved a lot from radiation, relieving pressure on my spinal cord, but there is now a lot of visible destruction in my spinal bones, still lots of cancer there and it now looks like its affecting my bone marrow. Upshot: Zeloda clearly not working enough. Now to try something else, though the options basket is looking a bit empty. My oncologist is having a think tonight, and get back to me tomorrow. At least he's thinking I guess... I'm off to the BCmets website (http://www.bcmets.org/) to see what advice they can give.
Monday 13th November: Been throwing up this afternoon and still have mild headache light sensitivity etc. Got worse in late afternoon, went back to A&E early evening with Brent (kids were left at Nanna's) and got the injections again but they didn't work!?! Went straight to bed once home, after another throw-up.
Sunday 12th November: Was so tired and dehydrated this morning I slept on couch till 2pm. Have been feeling off and on today, taken it real easy, thought the migraine was coming back this avo, took the oral and it went away. Managed to eat a lunch and dinner. Only one vomit today, before lunch, probably just because my stomach was so empty. Anyway, Lydia floored me tonight by saying as I was leaving her to sleep "Mummy why do you have cancer? to which I replied "I don't know Sweetheart, no-one knows" then she said "Did you know that some people who have cancer for a long time die? I don't want you to die Mummy, I'd miss you too much" to which I replied, well yes that's true, some people do die, we just have to hope that I'm not one of them won't we? We've got to make this cancer go away eh? I certainly don't want to die, I'd miss you too much too" and she just nodded and smiled and lay down to sleep?! Bizarre! I came downstairs a balled for a couple of minutes, just shocked by what she'd said (who said that to her? Guess I can't prevent talk like that) just not ready for that talk yet?!
Saturday 11th November: Had the afternoon/evening from hell toady. Got a full-blown migraine late afternoon (first in almost 2 years, never had one since BC diagnosis, used to have them every few months). Because my situation is so different now, on so many meds etc, we didn't know what to do so ended up calling hospice who said call my Oncologist. We called him and he scripted some oral medication for the migraine, but less than an hour after I took that the vomiting started and wouldn't stop. Eventually after mucking around taking oral anti-nausea stuff, still vomiting etc I taxi'd off to A&E for injections. Was kindly allowed to wait in bed in darkened room till Doc saw me, was well cared for. All sorted at midnight, called cab to get home, never came! Called again at 1am (had called at 12.30 told was still to be dispatched) they said whoops, its down as having collected you already... not! That brassed me off! Finally got home 1.20am! Then had to take my normal meds, wait half hour then to bed - so 2am!
Friday 10th November: Busy day today but only appointment-wise - not rushing around... Vitamin C went well, Richard and Michelle both came with me and we just chatted away - the time flew by! It was lovely :o) I got 180ml dose today - we're shooting for a 400 blood level now - had a blood test at the end to check where we're at now. MRI was at 2pm - got there nice and early to make up for yesterday! Its not fun, staying locked in one position dead still while jackhammer-like sounds going around you, not for the claustrophobic! Anyway, should hear Monday. To be honest, I kind of know what the results will be (not good) so actually not itching to find out! (Only because lumps on my chest do seem to have grown in last few days considerably, by chest is achy and I don't feel great, but then I am coming off the steroids now, could be that - I hope!) Now looking forward to going out tonight for dinner with Richard and Michelle :o) Life is for living - thanks all for your continued interest and support xoxo
Thursday 9th November: Feeling OK - tired though and my eyes are playing up, keep weeping and are sensitive to sun - hopefully just a meds thing. Thanks to help from Richard driving etc I got lots of shopping done at Farmers Sale (clothes for ME! man I've lost weight!) then had diarrhea attack in mall loos (causing a delay!) when should've been on way to scan, then major traffic snarl-up - was 10 mins late for scan (40 actually, supposed to get there 1/2 hour before)! (I am an always early person so was mortified!) Anyway, wasn't a disaster thank goodness, went OK. Went back to different Farmers in afternoon trying to fill gaps in what I'd bought, no luck there. Stuff happened all afternoon, never got to rest, fell asleep on couch early evening. Mustn't push myself so hard!
Wednesday 8th November: Sleeping pill worked a treat. I also bought some more heat packs yesterday and just hugged the biggest one to my chest all night and that worked wonders. No pain (touch wood) this morning :o) Coffee Group went well here this morning, had a lovely time, then went out with my bro and bought me some new shoes (long overdue!) and managed to get some ultra-cool Sketchers (in my size!) on special :o) So very happy camper on that - usually have no luck with shoes... Sweet Louise came after lunch, I'm all signed up (Metastatic BC benefit-giving group). Means I'll get vouchers to redeem for reflexology / Reiki / etc etc :o) Richard collected Lydia from school, I cancelled the helper for today (she was happy) as nothing to do, house immaculate and went to my parents for din dins tonight.
Tuesday 7th November: Day started off badly, I slept on wrong side and woke in much pain at 5.30am couldn't get back to sleep so got up lay on couch and watched a movie till the sun came up. I was just really sore and miserable this morning thinking "I don't want to die" but feeling like the monster was overcoming me this morning. But then the meds kicked in :o) Vitamin c went badly too today - I "tissued" badly, yowsa, so now have a swollen hand. Second line in other hand worked a charm. Good news is the big guy there has just come back from American research trip and ascertained that he needs to up my dose another 100 to 400 (I was 325 last blood test)! I like the sound of that, tissuing aside. Go vitamin C - do your stuff! I was dissappointed to find out near the end of my treatment today that they'd reduced my dose quite dramatically this time and last because they thought it was the vitamin C causing me to throw up in there! Noooo, ladies, it was the morphine and radiation... UP THE DOSE!!!! Grrr!
The new nanny/housecare lady is awesome! I think she's great :o) Her name is Veronique :o) With Richard here (my bro) she kind of ran out of things to do (after ironing, tidying, vacuuming, washing dishes, looking after Em while Rich and I went out...), so volunteered to leave early as there was nothing left to be done (Richards cooking as I type, Em's colouring beside me, and Lydia's making a nest in the playroom).
I like that - Veronique just does everything that has to be done, and offers to leave, or stay - perfect, cool, I'm very lucky to have this and am appreciating it all 100% :o)
Monday 6th November: My X-ray results seem to have just vanished into a black hole! Today was sooooooooo busy in the morning I wore myself out, slept for several hours late afternoon, then rushed off to the oncology at 7.30pm, they were running really behind so we were there for over 1.5 hours! What a meeting. I'd been so distracted with my results not turning up I completely forgot to do the obligatory blood test, but Vernon was unphased by that saying "Well your bloods don't really tell us a lot anyway do they". He said the X-ray wouldn't show much possibly anyway so we agreed its time for more scans (privately) - I'm getting CT of chest, pelvis, abdomen (to check liver etc) on Thursday morning 11am and on Friday an MRI of spine and possibly chest wall also (depends on CT results) to check the bones. We'll be pushing for chest wall MRI if at all possible, to be sure. Upshot of meeting - Vernon said he needs to see whether the chemo is working on the liver, if it is I have to continue to take it (keep me alive!), and maybe UP the dose :o/ as the lumps on my chest should really be shrinking and they're not. He said there's a few other chemos we could still try, but they're "Not as good as the Xeloda". He wants to see what's going on in the chest and maybe they won't be able to radiate (that's up to Dr Benji). Only good news is my back is obviously much improved thanks to the radiation, so here's hoping that stays that way for a while. I'm having another bone strengthening IV treatment next Wednesday morning.
Sunday 5th November: Came to realise to for some bizarre reason that from first lump found till where I am now only 15 months have elapsed. Now I have liver and extensive bone mets. You guys reading this probably realise this of course, but silly (maybe sensible ;o) me tends to ignore such things and keep hoping for a miracle. Today though reality hit me a bit! :o/
My brother Richard is up from Wellington this entire week entirely just to spend time with me and help he out - he flies back Sunday. He came up with 2 homemade cakes and he's making us a chicken pie on Tuesday night - apparently he's quite the cook! The new home help starts tomorrow (I met her this afternoon) and she can cook some nights for us, although she's a vegetarian!!! Hope she's as good as Lesli was!
Saturday 4th November: I'm sure the lumps on my chest have shrunk a tad over the last few weeks - all the extra help may actually be making a physical difference! Certainly feels that way :o) Beautiful day here in Auckland again :o)
One thing that I have come to fully appreciate this whole nightmare, is to live every day to the fullest and do all the things I want to do, while I can, without putting things off till "later". We never know what's around the next corner, and I need to be ready for what ever it is. Maybe that's a good lesson for all of us - live every day like its your last - one day it will be...... But for me, touch wood, I'm hoping that's not anytime soon ;o)
Friday 3rd November: I've been really tired, no doubt after effects of the latest radiation blast. Last night I lay down on the couch "for 5" after putting the girls to sleep and woke up at 4.30am! I got up almost hysterical, in pain as hadn't taken all my 10pm meds, took those and went into our bedroom mouthing off at poor Brent between the tears at how he could leave me sleeping there not taking my meds. He said he'd tried several times and just couldn't wake me! All was fine this morning but I slept in majorly because of taking all the meds so late. Anyway, no vomiting at vitamin c this morning (yay!) and just resting since. Yes I chased up my results AGAIN and STILL NO RESULTS?!?! Can U believe that? X-ray Tuesday 10am ... still at Friday 4pm still no word. Pathetic! Anyway, girls packed off to Grandparents for the night and Brent out at at work do. I'm still pretty much pain free as long as I take my meds, The pain in my back shifts up and down. Front is fine and dandy now - intriguing! Still can't eat a great deal.... but keeping it down. Do have diarrhea at the mo, yuck, side effect of radiation... Thank goodness for all the home help I'm getting is all I can say :o) Thanks so much Glyn and Noleine xoxox
Oh and a continued thanks to my TradeMe support thread friends - here are two saved old threads, thanks to TM member Trish for resurrecting them for us! :o)
TradeMe Cancer Suxs2 Thread
TradeMe Cancer Suxs3 Thread
Thursday 2nd November: Had my radiation zap late this morning. I was a good girl and stayed dead still all through the zap, and when it finished, I waited like 5 seconds, then moved majorly because I couldn't stand it any more, and apparently they'd been trying to take scans, they told me off :o/!!!!!! They should have told me before they went that they were going to do that, so I throw the whip back at them! STILL NO NEWS from the hospital on the x-ray!!!??? I'm taking no news is good news, or they're wimps and are scared to tell me! Hmmmmmmm.... I will chase up again tomorrow... Backs sore as, been overdoing it a bit today, off to watch a movie with my lovely Brent PS Builder started work on the Playhouse/deck concept today - gonnna be a biggie! He's started 2 weeks earlier than expected - how often does that happen?! LOL
Wednesday 1st November: I woke up in agony again (chest wall) this morning sadly, took a while to get it under control. I called Dr Benji's rooms twice today. The second time I was told that the results were being typed, then they'd be faxed to Benji, then he'd call me. No call received till this evening. Here's hoping no news is good news eh?! Felt MUCH more comfortable from early afternoon and it continued to improve, so quietly hoping it's chemo-induced spasm pain, rather than more bone cancer.... hoping!
Tuesday 31st October: Threw up majorly first thing, was in immense pain in my chest again before and after that. So limped off to my markup feeling ghastly, and asked Dr Benji etc about the pain and they sent me off for an urgent Xray after my markup for my back. Having my back zapped Thursday am (will be just the one zap). Waiting on chest wall results - fingers crossed that it's just chemo related pains, not more of the monster in my bones! The markup was ghastly I was is such discomfort I ended up balling as they made me stay still. Anyway, meds stayed down, painkillers in, started feeling much better after the markup. Now taking it easy till the results come in
Monday 30th October: Sad to report it was a horrible day today physically. Woke up very very dry, and ended up vomiting all through vit C (possibly from trying to rehydrate too quickly). Also woke up with chronic pain across my chest (mainly on my "good side" which I'm HOPING is just severe muscular cramping from the chemo pills and nothing more sinister. Didn't take my last 2 doses of chemo pills today - couldn't handle taking them thinking they could be causing today's ills.... Heat packed the area and slept all afternoon. Still sore as. Will be a very early night for me - have to leave home tomorrow at 7.15am to make my markup appointment. That's super-early for us!
Sunday 29th October: Felt pretty great today! Even cooked a full roast dinner!
Saturday 28th October: Well its been a ghastly few weeks alright, coming out the other side now YEEHA! No more nausea, vomiting, or pain (slight ache is all) - touch wood. Feeling bouncier, but still a bit off, but never mind, after last few weesk I can handle that! Getting radiation markup for next bit of spine on Tuesday very early am. So will be interesting to see how I go with that treatment. But that Palliative Doc was awesome and so on the money, yay for him! I've been out and about the last 48+ hours feels great. Lydia's school had a Halloween disco last night - what a hoot, that was great, then after her ballet this morning she went straight to her friends 6th birthday party. After that, the girls stayed at Nanna's while my friend Lissa arrived to help me record some more video tapes for my girls. Was scrap booking last night. Ate well tonight, first time eating an almost reasonably sized serving - my stomach has shrunk so much! I'm still very dry, may have to stop the chemo pills a few days early again, trying to avoid that - die cancer die! I was looking at my eyes tonight thinking how white my eyes look - so my liver can't be under too much strain I figure. Just gotta work some magic on this dammed spine! You should see the meds that I'm on now - so much more than what I showwed on my Tv3 appearance! I hate swallowing them all throughout the day, and haven't had my supplements in weeks, just can't swallow any more pills! Must get back onto them asap though!
Friday 27th October: Have been unbelievably tired and sleeping heaps and heaps. Think my body's just in shock with all that's happened lately. Managed to eat a decent lunch today, that's a good sign :o) No more pain, nausea or vomiting. Have had diarrheoa last few days but that seems to be settling down today too. Brent's colleague's wife Sandra came and weeding a huge area of our garden this morning - just to help me out - how fabulous :o) Thanks Sandra! Load off my mind all those weeds gone!
Thursday 26th October: Leslie comes every weekday, for varying hours, a lot at the mo to help get things back in order and while I'm sorting myself out medically. Still nauseous but not sick - would you believe I can't find the new anti-nausea drugs I was prescribed. Mum definitely got them and delivered them, I have the pharmacy receipt for them, but.... spent ages last night looking for them. Have ordered some more this morning, but with littlies in the house must find those others! I trust the girls not to eat the pills, they are wise to all that, but still, better safe than sorry. Lesli saw the missing pills within minutes of stepping into the house (d'oh!) My mum says she reminds her of Mary Poppins - I can't help but agree!
Today I was zonked out on the couch and the girls were coming to me showing me what artwork they're doing with Lesli then trotting happily off and then I burst into tears when they were gone wishing it was me playing with them. I'm just soooo zonked today. Finally pain, vomit and nauasea free, bowels have gone the other way LOL and my body has just collapsed with exhaustion. Been on the couch for hours pretty much.
Wednesday 25th October: Feeling a tad better all round today - fingers crossed - lost another 1/2 kg, getting some Usana sample packs of food supplements today so will try those. My coffee group friends just visited (very considerately bringing the food, helping out etc, I was able to just sit/recline and chat so that was lovely. PS Our Nanny just had her baby this morning, a very long gorgeous girl, Amber Pearl, weighing 7.5kgs, born naturally - we saw her this afternoon :o) The Palliative doc nicely called me today to see how I'm getting on :o) I was feeling dodgy this avo, but rested heaps. New lady (Lesli) was lovely, got on GREAT with girls. She's supposed to be temporary till another lady returns from o'seas in early Nov, but am thinking I may stick with Lesli. Will see...
Tuesday 24th October: Threw up again (in a bowl ;o) this morning at Vitamin C place near the end (coincidence I think) Charming! I've now lost 11kgs since my chemo biggest in Feb! Better start sorting it out soon or I'll be back to my pre-kids weight LOL. Still feeling pretty lousy generally - will I ever feel normal again? Hospice doc came around at 3pm and adjusted my meds again so we'll see how that goes

I am feeling more achy now, not so nauseous. Meds all being changed around in next day (after hospice doc visit - he was great) so will be interesting to see what happens - fingers crossed! I'm going on steroids for a few days after each radiation - I have one more radiation next week. If I can get through to hospital person on the phone to confirm that - grrr!
The big news of the day is that my wonderful parents-in-law have offered to pay for a part time nanny/cleaner to come and look after the house and the kids for me (in that order) starting with major hours, and seeing what's needed. They're happy to pay whatever. She starts tomorrow from 1 to 6pm! How fabulous is that?!
Horrible moment tonight, I was reading the girls their nighttime stories and Emily for some reason hit me (which she very very rarely does) cos we started with Lydia's chosen story first - Em was tired I think. Anyway, she got me right on my lumpy area and it hurt like hell. Try as I might, I couldn't help but burst into tears, and she went almost hysterical crying, mortified at what she'd done. Poor blossom :o/ I hate moments like that - not a world they should be immersed in, they deserve so much better. CANCER SUXS!
Monday 23rd October: I looked into Meal Replacement drinks today, Went to the mall (going out there and everything with the kids and Brent sure that zonked me!). The guy at the shop was useless but did point out that the ones he was showing me were for people wanting to lose weight, I said well, I don't want to lose any more! I decided to take matters into my own hands and drop my morphine doses. At least I managed to eat tonight and was not sick all day - sore though, can't win :o/!!!
Saturday 21st October: Looks like I overdid it yesterday... Have been feeling YUCK most of the day (vomited this morning of course). Yuck yuck yuck. When will this blow over? My appetite feels like its gone forever. Will call Hospice in morning and see what else can be done, till now have been assuming it's the radiation effects, but this is worse and gone on far longer?! Been having weird pains in my chest area causing a bit of worry. Definitely will call Hospice in the morning!
Friday 20th October: Vitamin C infusion went well again this morning, into the right hand again. I slept through most of it. Since then, felt pretty good, ran around doing a bit too much probably, till about 5pm then started feeling seedy, threw up yet again, and seedy for a while then felt a bit better, and ran about doing a bit too much again!
Thursday 19th October: Not in too much pain thank goodness (Morphine's doing it's thing) just REALLY tired and always that threat of nausea in the background. Been on couch asleep most of morning, when phone wasn't ringing, then hospice visited to review my meds. Brent popped home to put Emily to bed which was great. I was out of it on the couch for most of the day in between vomits and feeling lousy - no major pain though, so that's good. If vomiting doesn't ease in a few days (we're presuming at the mo it's from the radiation) I think I'll drop the Morphine dose a tad (from 60 to 50) and see what happens. Can't handle this puking every day - hard to take my "with food" meds etc - including my chemo! Got a bit of dinner down, then Brent gave me an injection to suppress the nausea, I took my chemo for the night about an hour after that.
Wednesday 18th October: After an initial chunder early am, I ran errands in morning (updating my scrapbooking supplies) then big one-off radiation zap on mid back only at about 12.50. I counted slowly to 73 (that's a long time in my book!) for this zap - longest I've had by far this far. I actually felt it affecting my skin, and skin was red afterwards but calmed down. Then met up with Janine and Ryan in "Muffin Break". I was so impressed Ryan could come down! His mouth was covered but I could see the smile in his eyes :o) Then I went to oncology for my infusion to strengthen my bones. Costs $1650 each time and apparently I'm to take them 4 weekly for a while. Anyway got home about 4.30, tired as still am now after resting all afternoon. Threw up again just after dinner - It was my multivitamin's fault, one got caught in my throat making me gag on its way down. Then it was uh oh - run! Going to be losing a fair bit more weight at this rate! Kept my lunch down today, thank goodness! Not so lucky with dinner though...
Tuesday 17th October: Have felt just awful today - I sound like a broken record don't I? Sorry about that. Wish its weren't true but I've ached everywhere, back sore as, hurts to breathe, to swallow.... dry as, I can't drink enough... The combination of higher vitamin C dose (up to 180 today!), on first day of new round of Xeloda chemo, plus sore back, me filled with morphine..... NOT a good combination! Spoke to doc today, he's doubled my long-acting morphine dosage, working on getting this pain under control. The chemo pains though are something else, sadly... Actually right at the moment, feeling a tad better - maybe the tide is turning, though I've just now taken the second lot of Xeloda, so.... will have to keep fingers crossed. I have to admit I was really worried this afternoon, with me hurting everywhere, I was thinking "OMG I think I'm actually dying" till I put 2 and 2 together (chemo) - whew!
Monday 16th October: Feeling friggin ghastly (sore lower back, stiff all over) this morning - spent first half of morning lying down with hotties on my back, plying the morphine every 1/2 hour, #sigh#. Radiation markup at 11.30am... Judy drove me there and back and looked after Emily (timings all wrong for Kindy attendance today). Isabelle from my coffee group came from a few hours up North in this awful weather to spend a few hours again (she does this every Monday!) tidying up the house for me - boy did it need it! Thank you Isabelle! Don't know how I'd be getting on without my friends and angels now - they are really making such a difference to our lives. (((((eternal hugs to you all my friends)))))) xoxoxoxoxo Anyway, back to the radiation markup... More tears shed during the appointment. Benji painted a gloomy picture (cancers growing faster through the spine than he can keep up with zapping it) He said my oncologist needs to get cracking finding a chemo that works on this monster while he continues to zap small areas a week at a time. Biggest bummer - the area he's zapping this week isn't my most acutely sore area!?! Seeing my oncologist tonight with lots of questions! Seems I'm really in the poo, sad but true, but still have my sword in my hand (fight fight fight), I can see it through the tears. Just hate getting the sucky news!
OK so lots went down at Oncology meeting tonight. Firstly the teeny weeny bit of "good" news - my lumpy chest area feels the same to him also as last time, no significant growth. My blood tests pretty good all round, liver is flaring a little, but nothing major yet. I do have one new lump that I discovered a few days ago in my collarbone, actually inside the bone (above my lumpy breast area), that's new, which isn't good... As for my radiation on Wednesday, he was concerned as to why Benji wouldn't zap my sorest area this week and will talk to him about it tomorrow morning and try to persuade him to mark me up for that as well.... Not putting too much hope on that, but glad he's batting for me! So I asked about the cortisone injection option (I know how good they are from previous injuries), to tide me through and he said "yep, why not?!" OMG why haven't we done that before (all up the spine?) Jeepers, gotta know the questions to ask eh?!.... While on the subject of bones, he's decided to give me some kind of bone densitying infusion this week - date and time TBC, to help fight the bone cancer more.
So then we moved onto my problems with Vitamin C lately (my veins are all getting pretty useless on my left side) and enquired about getting a port put in my left chest for future infusions. We discussed that for a while then he looked at my right hand and all the beautiful veins on there and said, nah, just get them to use this side for a while... they use sterile swabs and needles etc don't they?" Saves me an op! *Rolls the eyes* how many times has he said NO to me on needles on right hand?! Hmmmm.... maybe it was Dora!? Then we discussed my hormone results from Dr Monica Lewis again, I was re-querying his categorical NO! on the progesterone and DHEA hormone supplements, and again, he backed down and said "Try it if you want" I had explained it was supplementation for my wellbeing, rather than specifically to fight the cancer, which we both know it probably won't because I have hormone receptor negative cancer. So we ended up in agreement on that one!
Then we took on the New York for Xmas question - he did NOT like that idea one bit! He said it was a long trip, etc etc. Brent didn't take it as a no but I did! We'll see what happens there....
Full body MRI or CT scan - nope, still no joy. His theory is, we know its in your spine so probably elsewhere too, till we find something that actually works on it, what's the point in knowing where it all is?! I think it's a keeping me mentally positive tact on his part - keep me blissfully in the dark and hope for a miracle!
Sunday 15th October: Had an awesome pain-free feeling great morning, we hung the rest of our pictures. our house has so much fewer blank walls LOL Then went to Whitcoull's sale and bought up on cards and Xmas paper etc - Brent bought me a gorgeous book of New York and U2 in concert - wahoo for him! Felt tired after all that and crashed on couch for a couple of hours or 3, then got up feeling terrible (actually it wasn't MY couch it was one of the others as Emily was resting on mine) and been in pain since - morphine every half an hour time again. Weird how it comes and goes the pain...
Still blown away by all the offers of help I'm getting ;o)
Saturday 14th October: Had a horrific sleep Emily was in our bed when I was balling and moaning from the pain at about 3.30am. I got so noisy she ended up asking to go back to her own bed and Brent stayed with her! In the morning she asked "Are you crying now mummy?" "That's good you're not crying any more, does your back feel better now?" What a sweetie - and only 3 :o) The whole morning I felt so doped up on meds I could barely stay awake. Poor Lydia was not happy about it. I had a lemonade ice block hoping that'd perk me up but it didn't work!? I eventually came right by the early hours of the afternoon. I even felt good enough to weed the garden (the sloping back part that isn't so back spraining)! We got all our framed photos back today (10 photos and 1 sketch of me with girls) and have also managed to hang over half of them! Spent the evening watching a DVD with Brent while scrapbooking (didn't get to the other night that I said I was going to) Making the most of feeling a bit better!
Diary Entries continued Page 2... (click here)